Whenever I post a list of "Bash Favs," I get a few messages from people outside the basketball world who suggest I toss out a few favs that were non-hoops related. I missed a golden opportunity to do some "Thanksgiving Favs," but no need to panic the real season is beginning! The Holiday Bash has officially started. Winter SZN basketball and holiday music. I can not think of a more fun combination.
The minute Thanksgiving dinner is over, I pull out the holiday playlist, which is the vibe until the turn of the New Year! Sorry, but not sorry. What better way to kick off the holiday season than listing my top 10 holiday albums? Let's ring in December with competitive basketball and a playlist to get us all jazzed up!
A few honorable mentions:
Song: What Christmas Means to Me
Artist: John Legend
Song: Keep Me Warm (On Christmas)
Artist: Trey Songz
Song: Mary, Did You Know?
Artist: Pentatonix
Okay, now that we have the very random assortment of honorable mentions out of the way, it is time for the top 10 holiday albums. I admit that #10 and #9 aren't albums, just really catchy songs that I can't help but have on repeat.
10
Song: Happy Holidays to You
Artist: The Whispers
Notable Lyric: People really need one another
Man, woman, boy, girl, sister, and brother,
We wish to
Wish Happy Holidays to you
What a lovely song and message! Just a few guys being dudes wishing everyone Happy Holidays! A soothing track for those snowy nights by the fireplace.
9
Song: Wonderful Christmastime
Artist: Paul McCartney
Notable Lyric: The mood is right
The spirits up
We're here tonight
And that's enough
We're simply having a wonderful Christmas time
This isn't just a Bash Fav but a Lowe's Fav as well! No matter what time of day you shop in that store during the season, Paul McCartney never fails to let you know how his Christmas is going. I respect the way Paul goes about the holidays. No need to complicate anything. Let's come in with our heads held high, ready to party, and simply enjoy the day.
8
Album: Home For the Holidays
Artist: Darius Rucker
Fav Tracks
Hark! The Herald Angels Sing
You're a Mean One, Mr. Grinch
Every year I get excited to listen to Darius Rucker, then remember that there aren't that many great songs on the album. He hit a couple of home runs with "Hark! The Herald Angels Sing" and " You're a Mean One, Mr. Grinch and every so often, "Winter Wonderland" will get a little air time. Other than that, Darius isn't giving what albums 1-7 on this list are giving.
7
Album: Merry Christmas
Artist: Mariah Carey
Fav Tracks:
Hark! The Herald Angels Sing
Oh, you thought I would drop an "All I Want For Christmas is You" in my fav tracks? No chance! That song drives me batty, and Idina Menzel's version is 100x better (we will address Queen Elsa shortly, stay tuned). That said, Mariah KILLS "O Holy Night" and "Hark! The Herald Angels Sing".
6.
Album: Christmas
Artist: Michael Buble
Fav Tracks:
Winter Wonderland is so good I had to list it three times. Nothing like Buble belting out, " walking in a winter wonderland" over and over again to get the post Thanksgiving juices flowing. A song so good it makes me appreciate and want snow! Only Buble can get me like that.
5
Album: This Is Christmas
Artist: Luther Vandross
Fav Tracks:
Every Year, Every Christmas
Look at Big Lu cracking the Top 5! This is a nostalgic selection. As a kid, Luther Vandross defined the Hudson household and the holidays were a Vandross bonanza. Honestly, once you listen to track 1 ("With a Christmas Heart"), you can cut off the album. That song is a masterpiece. And all Lu wants is for people to be nice to each other, love one another so the world can be a better place for the children. What a guy Luther was. 
4
Album: Christmas Album (creativity on 1000 here)
Artist: Jackson 5
Fav Tracks
All of them are a vibe in their own right
The Jackson 5 bat 1.000 with " Christmas Album." How do you go 11/11 on an album and get ranked 4th? ( We will address this momentarily, stay tuned)
BANGERZ (Miley Cyrus voice) from start to finish. Give me "Up On the House Top," "Frosty the Snowman," and "I saw Mommy Kissing Santa Claus"; it doesn't matter what song the volume is getting cranked!

The top 3 or "Tier 1" if we turn this into a Bash pyramid has a theme! One of the greatest artists to bless our movie screens and radios has dropped Hall of Fame Holiday hits over the last decade, and she will forever be my Holiday G.O.A.T.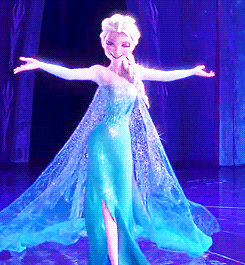 3
Album: Holiday Wishes
Artist: Idina Menzel
Fav Tracks
All I Want For Christmas Is You
Collaborating with Michael Buble on "Baby It's Cold Outside" was a brilliant move. That dynamic is money in the bank. Sneaky best track on the album? December Prayer. Idina is just…wow. Her voice, the lyrics…everything Idina touches turns into gold (or ice in some cases, hehe).
2
Album: Olaf's Frozen Adventure
Artist: The Frozen Cast
Fav Tracks:
Ring in the Season (Reprise)
Led by Idina Menzel, the Frozen cast comes correct again on a fun short film about Olaf! If you have 20 minutes, I recommend going on Disney+ and watching this. A fun storyline and some teachable moments! Elsa and Ana kill this album from the jump with "Ring in the Season" and then close the curtain with "When We're Together." Olaf jumps in for a bouncy tune in the middle ( "That Time of Year"). Kristof tried to contribute, but a big swing and a miss with " The Ballad of Flemmingrad," but thankfully, the ladies of Arendelle held it down per usual.
1
Album: Christmas: A Season of Love
Artist: Idina Menzel
Fav Tracks:
I wanted to add more, but you get the point. I really love Idina Menzel. This album is incredible, and she was about 49 when this was released in 2019; Idina was (and still is)pitching a fastball at a high velocity going into year 50. "Seasons of Love" is easily the best song on the album. Her version of the song brings a tear to my eye. "Ocho Kandelikas" is the most creative song ever. "A Hand For Mrs. Claus"? Yup, you bet your bottom dollar Idina is showing some love and appreciation for Mrs. Claus and all her hard work leading up to Christmas and even got Ariana Grande on the track to bring the point home. "Caroling, Caroling" is a fun song for gift wrapping. The album starts with "Sleigh Ride," which is electric. Idina came out of the gates making a huge statement and is a major reason my holiday season will be excellent!
Let the holidays begin! Now, back to basketball!